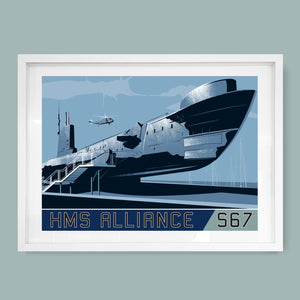 HMS Alliance is a Royal Navy A-class, Amphion-class or Acheron-class submarine, laid down towards the end of the Second World War and completed in 1947. The submarine is the only surviving example of the A-class. Alliance is now a memorial ship docked at The Royal Navy Submarine Museum in Gosport, UK, and is open to museum visitors for tours.
Poster is supplied unframed. Landscape format and tailored to fit a standard shop bought frame; so bespoke framing is not necessary. 
Size: H40 x W50cm (15 ¾ x 19 ¾")

Delivery to the UK is included, prints are couriered and sent via robust, flat cardboard packaging direct from our UK based printer. Please allow 7 to 10 working days for delivery.