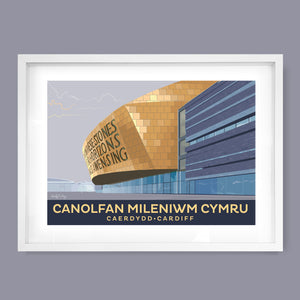 Limited edition fine art print of the Wales Millennium Centre, Canolfan Mileniwm Cymru, in Cardiff, Caerdydd, by Andy Tuohy. Initially produced as a commission for Great Western as part of a set of illustrations to celebrate twelve stops on the Great Western Railway route. Known locally as the armadillo the Wales Millennium Centre was created as a stage for Wales, to reflect the spirit of a nation, and become a home for the performing arts. There's also a nod to the maritime history of Tiger Bay, reflected by the hull-shaped copper-coloured roof that gave rise to the building.
The striking bilingual inscription on the front of the building: In These Stones, Horizons Sing was composed by the former National Poet of Wales, Gwyneth Lewis. 
Print celf gain argraffiad cyfyngedig o Ganolfan Mileniwm Cymru, Canolfan Mileniwm Cymru, yng Nghaerdydd, Caerdydd, gan Andy Tuohy. Cynhyrchwyd i ddechrau fel comisiwn ar gyfer Great Western fel rhan o set o ddarluniau i ddathlu deuddeg arhosfan ar lwybr Rheilffordd y Great Western. Yn cael ei adnabod yn lleol fel yr armadillo crëwyd Canolfan Mileniwm Cymru fel llwyfan i Gymru, i adlewyrchu ysbryd cenedl, a dod yn gartref i'r celfyddydau perfformio. Mae yna nod hefyd i hanes morwrol Bae Tiger, a adlewyrchir gan y to lliw copr siâp cragen a arweiniodd at yr adeilad.
Cyfansoddwyd yr arysgrif ddwyieithog drawiadol ar du blaen yr adeilad: In These Stones, Horizons Sing gan gyn-Fardd Cenedlaethol Cymru, Gwyneth Lewis.
Unframed, limited edition giclée print on heavy weight Hahnemühle fine art paper - the finest paper available for giclée printing in terms of archival qualities and print fidelity. Each print is signed by the artist, embossed and numbered as part of a strictly limited edition of 100. 
Size: H50 x W70cm (19 ¾ x 27 ½")
Delivery to the UK is included, prints are couriered and sent via robust, flat cardboard packaging direct from our UK based printer. Please allow 7 to 10 working days for delivery.
For full details of shipping click here.