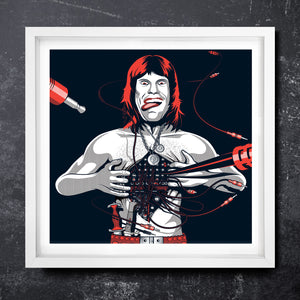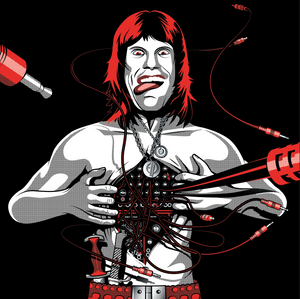 Please be aware customers from the EU may incur import duties.
No series on synths, and in particular Moog's story, can leave out Keith Emerson, who is described in Mark Vail's book on vintage synthesisers as using the 'World's Most Dangerous Synth'. Well, it certainly had a musician to match with Keith Emerson, stabbing knives into his Hammond with keys flying off, climbing and rocking all over it.
As a huge ELP fan in the early 80s, having been too young to catch them in their early 70s pomp, it filled me with great sadness to belatedly hear of his death in 2016, and then to hear of Greg Lake's death in that same year. Check out his playing on youtube where a good starting point would be his relatively understated (for Emerson, anyway) Moog solo at the end of Greg Lake's divine ballad, 'Lucky Man', and crank the bass and volume up to get that deep resonance as only a modular Moog can. And remember kids…always ask an adult before playing with knives.
Unframed, limited edition giclée print on heavy weight Hahnemühle fine art paper - the finest paper available for giclée printing in terms of archival qualities and print fidelity.  Each print is signed by the artist, embossed and numbered as part of a strictly limited edition of 100.
Size: H40 x W40 cms (15 ¾ x 15 ¾ inches)
Delivery to the UK is included, prints are couriered and sent via robust, flat cardboard packaging direct from our UK based printer. Please allow 7 to 10 working days for delivery.
For full details of shipping click here.