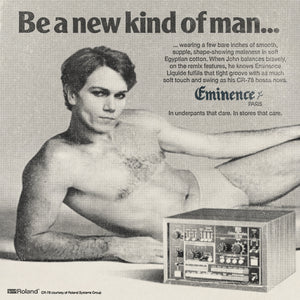 DESCRIPTION

John Foxx, born in 1948, is a British musician, artist, and synth-pop pioneer. As the original lead singer of Ultravox!, he contributed to their early success with albums like "Ultravox!" (1977) and "Ha!-Ha!-Ha!" (1977). Departing the band in 1979, Foxx embarked on a solo career, releasing influential albums such as "Metamatic" (1980). His solo work embraced electronic experimentation and atmospheric soundscapes. Beyond music, Foxx delved into visual arts and film. A visionary in the New Wave movement, John Foxx's enduring impact lies in his innovative sonic contributions, shaping the landscape of electronic and alternative music.

DIGITAL DOWNLOAD (40cm x 40cm / 72dpi)
Printable on any printer. A4 is the optimum print size for best quality.  Our digital files are ready for instant download to print at home, at your favourite print shop or upload to a printing service and have them delivered to your door!


PLEASE NOTE
This listing is for a digital download. No physical product will be shipped.
Colours may vary slightly from those seen here due to different monitor settings and printer outputs.
This purchase is for PERSONAL USE ONLY.

 This image is copyright of the artist © Andy Tuohy 2023. Image reproduction rights do not transfer with the sale of this download.
No rights, copyright or licences are transferred in the download of this image. No commercial use, printing or sale to a third party is permitted with this purchase and will be prosecuted to the full extend of the law.
Please get in touch if there is anything we can help you with and if you would like a limited edition giclee print of the image we also see those here: https://www.andytuohy.co.uk/collections/gods-of-synth