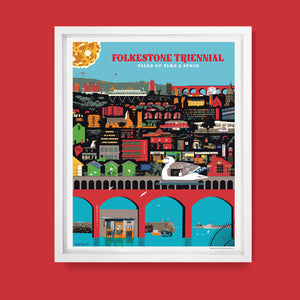 The poster that started it all! This is the first product we produced for Andy Tuohy Design. Originally created to commemorate the first Folkestone Triennial held in 2008 our poster features almost all the public artworks that were commissioned for this major international contemporary art festival held in the Kent seaside town of Folkestone.  
The Triennial takes place every 3 years, so was held again in 2011, 2014 and most recently in 2017. Folkestone is well known as being the home of H.G. Wells, hence the reference to the War of the Worlds. Other artists' work referred to includes Tracey Emin's 'Baby Things', Richard Wilson's '18 Holes' beach huts, Mark Dion's 'Mobile Gull Appreciation Unit' as well as Mark Wallinger's 'Folk Stones'. 
Poster is supplied unframed. Portrait format and tailored to fit a standard shop bought frame; so bespoke framing is not necessary.  Free delivery on UK orders.
Size: H50 x W40cm (19 ¾ x 15 ¾")
Printed lithographically in the UK on environmentally friendly medium weight paper that is Forestry Commission approved from a sustainable source.
Delivery to the UK is included, posters are couriered and sent rolled in a robust cardboard tube. Please allow 5 to 7 working days for delivery.
For full details of shipping click here.