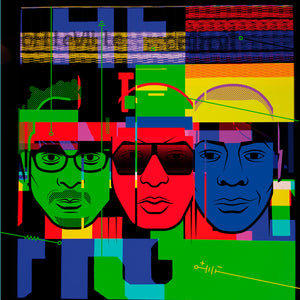 DESCRIPTION

The Belleville Three, originating from Detroit in the 1980s, comprises techno music pioneers Juan Atkins, Kevin Saunderson, and Derrick May. Fuelled by a shared passion for electronic soundscapes, they are credited with shaping the Detroit techno movement. Each artist brought a unique style, contributing to the genre's evolution. Atkins, recognized for his work as "The Originator," Saunderson, a key figure in Inner City, and May, celebrated for his innovative productions, collectively defined the futuristic sound of techno. The Belleville Three's influence extends globally, solidifying their status as electronic music trailblazers and architects of a genre that continues to resonate worldwide.

DIGITAL DOWNLOAD (40cm x 40cm / 72dpi)
Printable on any printer. A4 is the optimum print size for best quality.  Our digital files are ready for instant download to print at home, at your favourite print shop or upload to a printing service and have them delivered to your door!


PLEASE NOTE
This listing is for a digital download. No physical product will be shipped.
Colours may vary slightly from those seen here due to different monitor settings and printer outputs.
This purchase is for PERSONAL USE ONLY.

 This image is copyright of the artist © Andy Tuohy 2023. Image reproduction rights do not transfer with the sale of this download.
No rights, copyright or licences are transferred in the download of this image. No commercial use, printing or sale to a third party is permitted with this purchase and will be prosecuted to the full extend of the law.
Please get in touch if there is anything we can help you with and if you would like a limited edition giclee print of the image we also see those here: https://www.andytuohy.co.uk/collections/gods-of-synth